Volunteer Awards
CNPS is a volunteer-based organization, and the CNPS Santa Clara Valley Chapter is fortunate to have many volunteers who contribute to the success and vibrancy of our chapter. Indeed, this has been a hallmark of our chapter since its inception.
Each year, our chapter recognizes one or two extraordinary volunteers. Recipients of the annual award have typically contributed at least a decade of service and made a significant contribution to the chapter over their many years as a volunteer. The Outstanding Volunteer Award recognizes a volunteer who has gone above and beyond in their contributions to the chapter, and who has volunteered for the chapter in the current calendar year. The Native Plant Ambassador Award is intended for a person who has made significant contributions to the promotion and understanding of California native plants in urban landscapes or in the wild.
We invite you to submit candidates for a volunteer award at any time of the year. You may submit your nominations here. If you have questions or need help with the nomination process please contact the Leadership Development Committee Chair or Chapter President.
---
2022 Outstanding Volunteer Award - Georgia Stigall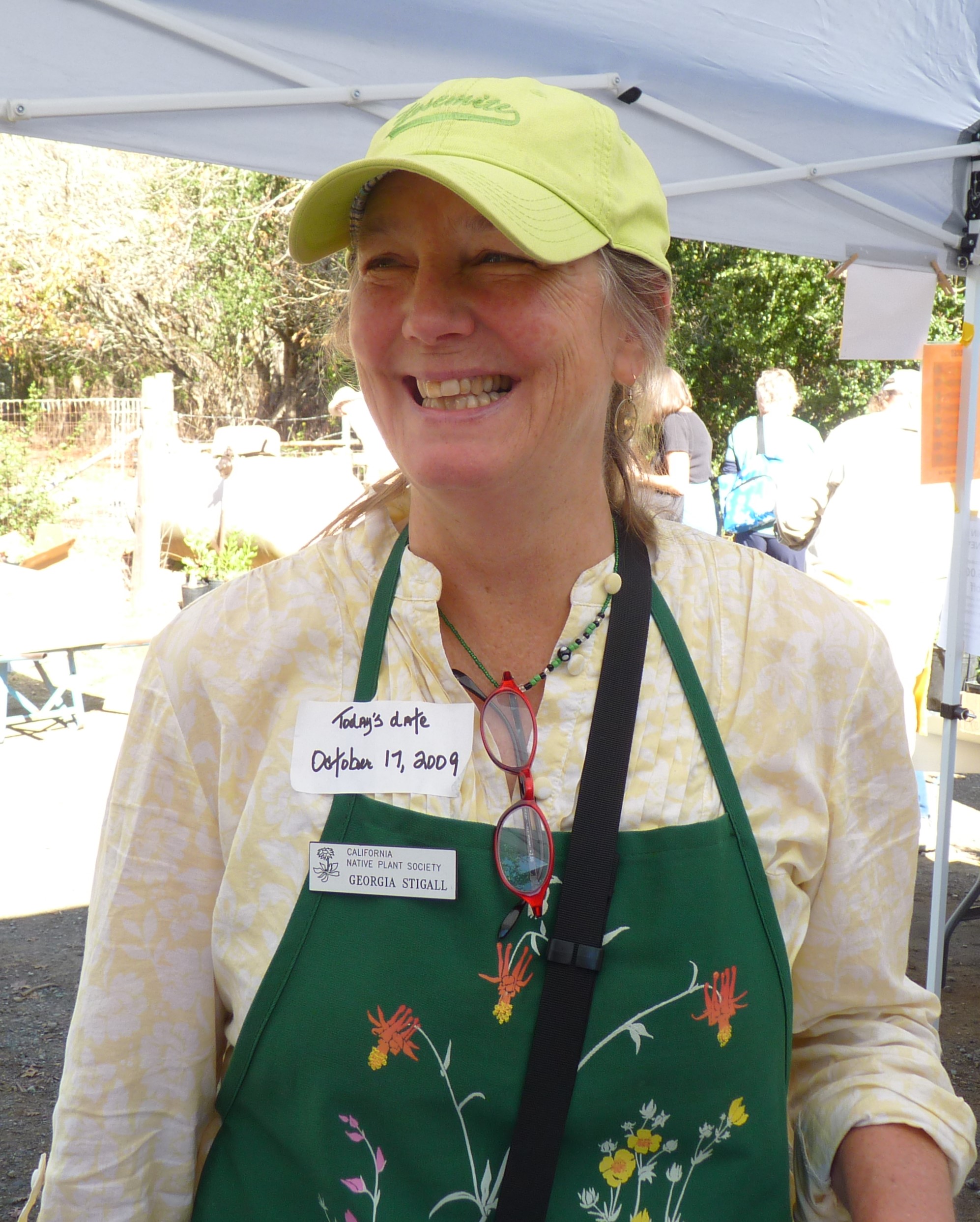 Georgia Stigall joined the Chapter in the late 1980s and has been a constant presence ever since. She has volunteered in a variety of roles: Edgewood Preserve weeder, Recording Secretary, Vice President, President, Chapter Council Delegate, Officer at Large, GNGT docent, and New Member Outreach. She spent over 23 years as a Chapter Board Member, 10 of those as a Chapter Officer. Georgia has been a regular presence at plant sales, wildflower shows and other Chapter events since the late 1990s. She facilitated process changes for our Chapter that significantly streamlined the management of these events. She hosted numerous CNPS board retreats and potlucks. Her passion is habitat relationships between native flora and fauna by teaching, "Native critters need native plants!" She has been the go-to person for consultation, communication, conflict resolution, and problem-solving. The Chapter has thrived and grown due to Georgia's efforts. She has recruited many members to the society, who continue to be inspired by her commitment to the environment.
Read more about Georgia in the Jan/Feb 2023 issue of the Blazing Star.
---
2021 Outstanding Volunteer Award - Carol Mattsson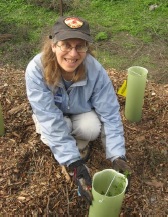 Carol Mattsson became the editor of thie Blazing Star newsletter in 2001 when she was recruited by Jean Struthers. She produced her first Blazing Star issue for the November/December 2001 issue. In all the years since, she made each and every newsletter ̶ a whopping 120 issues ̶ engaging, informative and enjoyable. Year after year, Carol has also volunteered enthusiastically at other Chapter events like our plant sales, the Wildflower shows, the nursery, habitat restoration projects, and more. She was a Board member for many years is also an avid and inquisitive participant on many of our field trips. We are very proud of and grateful to Carol Mattsson for her 20 years volunteering as our Blazing Star Editor and her many other volunteer accomplishment
Read more about Carol in the January/February 2022 issue of the Blazing Star.
---
2020 Outstanding Volunteer Award - Krzysztof Kozminski
Krzys (KK) has been a Chapter member and volunteer for over twenty years. He has a beautiful and mature collector's garden which contains over forty species and cultivars of Ceanothus alone, and has conducted many public and private tours of his garden. KK has served on the Going Native Garden Tour committee continuously since 2002. He developed the website that has been used to support the tour for over a decade. His position as tour webmaster belies the enormous responsibility and effort involved: keeping the website running, handling registrations, updating garden pages, sending notifications, and more. Nella Henninger calls him "the backbone of the tour."
---
2020 Garden Ambassador Award - Sherri Osaka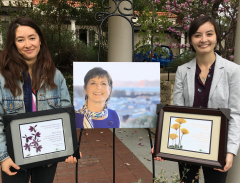 Sherri Osaka made numerous contributions to the chapter to promote native plant landscaping and sustainable living. An electrical engineer by training, she switched to landscape design in mid-career. Her gardens were featured on the Going Native Garden Tour for many years. She led the Gardening with Natives (GWN) committee of the Chapter, arranging over 30 public talks annually throughout two counties, touching the lives of over a thousand attendees each year. She was a passionate advocate for living lightly on this earth and giving back.
---
2019 Garden Ambassador Award - Patrick Pizzo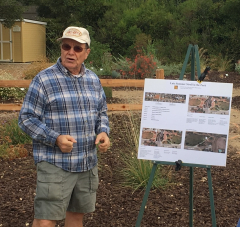 Patrick Pizzo made countless contributions to the promotion of native plants in this area. A San Jose native, he had a long academic career at San Jose State University. After retirement, he threw himself into native planting projects around the valley, including Capitancillos Drive, Fontana Park, and the Hellyer Park Interpretive Center. He engaged with the Chapter, Our City Forest, County Parks and community members to advocate for native plants in everyday landscapes like streets, local parks, and schools. He had a vision and was constantly engaged in implementing it with passion, persistence, and good cheer. He was a frequent contributor on the Gardening With Natives email group, lead Chapter field trips to visit his planting projects and provided encouragement and guidance to novice and experienced native plant gardeners.
---
2019 Outstanding Volunteer Award -Toni Gregorio Bunch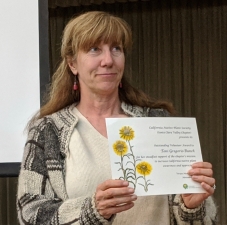 For over a decade, Toni Gregorio-Bunch has had a hand in coordinating and managing Chapter activities and administration: Vice President for three terms, volunteer recruiter and coordinator too many times to count, Outreach Coordinator, and Publicity Chair. She was the co-coordinator of our Chapter's Wildflower Show for several years and the Fall Plant Sale Manager. Even when she is not coordinating an event, she shows up to help: from tabling at many local outreach events, staffing plant sales and the Symposium, and showing off her buckwheat (and more) garden on the Going Native Garden Tour - she's 'been there' for the Chapter.