Volunteer Awards
CNPS is a volunteer-based organization, and the CNPS Santa Clara Valley Chapter is fortunate to have many volunteers who contribute to the success and vibrancy of our chapter. Indeed, this has been a hallmark of our chapter since its inception.
The Outstanding Volunteer Award was established in 2019, and is given on an annual basis at the November Members Potluck. This award is intended to recognize a volunteer who has gone above and beyond in their contributions to the chapter, and who has volunteered for the chapter in the current calendar year.
The Native Plant Ambassador Award is intended for a person who has made significant contributions to the promotion and understanding of California native plants in urban landscapes or in the wild.
We invite you to submit candidates for a volunteer award at any time of the year. You may submit your nominations here. If you have questions or need help with the nomination process please contact the Leadership Development Committee Chair or Chapter President.
---
2019 Outstanding Volunteer Award -Toni Gregorio Bunch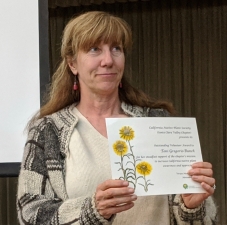 For over a decade, Toni Gregorio-Bunch has had a hand in coordinating and managing Chapter activities and administration: Vice President for three terms, volunteer recruiter and coordinator too many times to count, Outreach Coordinator, and Publicity Chair. She was the co-coordinator of our Chapter's Wildflower Show for several years and the Fall Plant Sale Manager. Even when she is not coordinating an event, she shows up to help: from tabling at many local outreach events, staffing plant sales and the Symposium, and showing off her buckwheat (and more) garden on the Going Native Garden Tour - she's 'been there' for the Chapter.