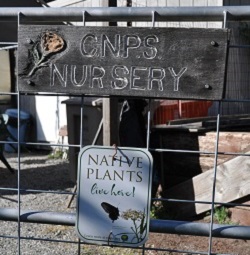 CNPS SCV Nursery
-- founded by Jean and David Struthers
Where ecology and horticulture connect.
The Santa Clara Valley Chapter of CNPS maintains the CNPS SCV Nursery on the grounds of Hidden Villa in Los Altos Hills. Volunteers propagate native plants throughout the year for the chapter's Native Plant Sales. Proceeds from plant sales are the major source of funding for chapter activities. To see what's available, please go to our online store:
https://california-native-plant-society-santa-clara-valley-chapter.square.site/
An illustrated list from Calflora of all the species (this does not include cultivars) grown at the nursery is available here.
Open work sessions at our nursery have been canceled indefinitely due to COVID-19.
For more information, contact the Nursery Manager, Vivian Neou at This email address is being protected from spambots. You need JavaScript enabled to view it..
You can learn more about the history of our nursery here.
Directions: Hidden Villa is located on 26870 Moody Road Los Altos Hills, CA 94022. It is west of Foothill College. From Hwy 280 in Los Altos Hills, take the Moody Road exit and head west. Two miles west of Foothill College, look for the Hidden Villa sign and driveway on the left. Proceed over the bridge, and park in the Dana Center parking lot to your right. Parking is free for volunteers and plant sale customers. The nursery is just beyond the Dana Center. Google Map Link
You can check the weather at the nursery on our Bloomsky Weather Station.