The CNPS SCV Native Plant Lecture Series has something for everyone -- whether you're curious about native plants, an experienced or aspiring native plant gardener or a professional botanist, you will find something to interest and educate you in our offerings. From gardening to plant science to conservation to tours of botanical hot spots, if you're interested in California's native plants, there's something here for you. Most of our lectures are on Wednesday evening. Our talks are live presentations followed by Q&As with the viewing audience. They are live streamed simultaneously to Zoom and YouTube.
View past talks on our YouTube channel: https://www.youtube.com/c/CNPSSantaClaraValley
---
Upcoming Talks

Wednesday, March 10, 2021, 7:30pm
Growing and Appreciating California Succulents in Gardens and in the Wild, a talk by Paul Heiple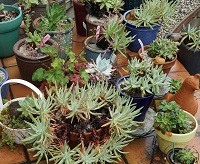 A few pieces of California native succulents from a CNPS wildflower show prompted geologist and restorationist Paul Heiple to add many California natives to his large collection of "foreign" succulents. Soon he was deep into dudleyas, sedums, lewisias, cacti and yuccas. Paul will share the excitement of finding these beautiful plants in the wild and he will explain how he grows them.
Paul Heiple is the Grassroots Ecology Botanist Emeritus. A retired petroleum geologist who spent his career exploring for oil in the Williston Basin of North Dakota, he now focuses on the smaller landscapes of Jasper Ridge and nearby Pearson-Arastradero Preserve and Edgewood Preserve. Paul has served as chair of the Conservation Committee of the Town of Portola Valley, co-chair of the San Mateo County Weed Management Area and as our Chapter's Treasurer. He is active with the California Invasive Plant Council and mentors local Boy Scout troops. He also leads the long-running, effective weed warrior effort at Edgewood Park and Natural Preserve, a famous serpentine grassland reserve near Redwood City.
This talk will be live streamed on YouTube and Zoom (requires advance registration).
Wednesday, March 17, 2021, 7:30pm
Saving Wildflowers: How to be a More Effective Rare Plant Advocate, a talk by Dr. Tim Krantz
This talk is cosponsored by the East Bay Chapter and our Chapter of CNPS. Rare plants are like canaries in coal mines: they are indicator species of environmental impacts to their respective ecosystems, which, if ignored or left unattended, could result in the destruction of those unique habitats. Each one has its own story of endangerment: from the Presidio manzanita, with only one naturally occurring specimen in the wild but reproduced from cuttings in the native nursery trade; to the Cushenbury buckwheat, restricted to limestone soils and threatened by mining; to the slender-horned spineflower, once common on alluvial fans in Southern California and now extremely endangered by sand and gravel mining and urban development. And they need your help! From more than 40 years of environmental impact assessment experience, Dr. Krantz will share some tricks of the rare plant protection trade, including a citizen's guide to the California Environmental Quality Act and Federal and State Endangered Species Acts, as they pertain to rare plant conservation. Anyone can adopt a local rarity, become familiar with its natural history and testify before a local agency as an "expert witness" on the rare plant's behalf. You too can become a "Wildflower Warrior!"
Dr. Tim Krantz's day job is Professor and Chair of the Environmental Studies Department at the University of Redland. At his "moonlight job" he serves as the founding director of the Southern California Montane Botanic Garden at The Wildlands Conservancy's Oak Glen Preserve. He is an authority on the flora of the San Bernardino Mountains, which was the subject of his dissertation from U.C. Berkeley. He is also an authority on the Salton Sea, when he served as the Salton Sea Database Program Director under the auspices of then-Secretary of Interior Bruce Babbitt. He is an avid birder, but his particular passion is conserving rare and endangered plants. He has been cited on the listing petitions of 15 rare, threatened or endangered species.
Tim's talk will be preceded by the recipient of the 2020-2021 Donald Mayall Conservation Graduate Research Scholarship, Martin Purdy from the Claremont Graduate School / California Botanic Garden. Martin has been exploring the flora of the Coyote Ridge area, a 50 square mile alpine-subalpine site located in northwest Inyo County for the past year. This year, he will continue to document the diversity and distribution of vascular and nonvascular plant species, publish a voucher-based checklist of plants occurring there, and provide this information to the Inyo National Forest and California Natural Diversity Database. The primary recipient of his plant vouchers will be the California Botanic Garden Herbarium with duplicate sets sent to other regional herbaria.
This talk will be live streamed on YouTube and Zoom (requires advance registration).
Wednesday, March 31, 2021, 7:30pm
Meadowlands Garden Tour, a talk by Krzysztof Kozminski
Meadowlands, a private residential garden in San Jose, has been cultivated for over 20 years, starting from a lifeless patch of subsoil, stripped bare during the house construction in 1996. Initially it was planted as a mix of native and exotic drought-tolerant plants. From about the year 2000 onwards, only native plants were added. Currently, the garden is at least 95% California native, and boasts a collection of over 300 species and cultivars of California natives. The main feature of the garden is a large collection of California lilacs (ceanothus), with over 60 different species and cultivars, most of them having grown to mature size. Ceanothus seedlings have volunteered in the garden in recent years; most of them are unique hybrids and about 50 of these have reached flowering stage. The wide variety of native plans and large brush piles attract numerous wildlife. Visitors include jackrabbits, skunks, lizards, frogs, toads, snakes and many birds and insects. Several years ago, a covey of California quail made its home in the thickets of big saltbush (Atriplex lentiformis) and other low-growing shrubs. The garden is frequently on the Going Native Garden Tour (gngt.org/Meadowlands_GNGT).
Krzysztof Kozminski, aka KK, is a software engineer by profession (Ph.D. in electrical engineering, 1985). His hobbies are collecting and photographing plants and growing clay-tolerant native California species in his garden in San Jose. He is an active member and co-founder of the Going Native Garden Tour Steering Committee and created and maintains the Tour's website. Krzys was the recipient of our Chapter's 2020 Outstanding Volunteer Award.
This talk will be live streamed on YouTube and Zoom (requires advance registration).
Wednesday, April 7, 2021, 7:30pm
Native Plant Pollinators, a talk by Juanita Salisbury
Join Landscape Architect Juanita Salisbury to learn fascinating details about native plant pollinators. Juanita will share details about specific pollinator relationships with California native plants and methods for attracting more pollinators to your garden. She will also share information about several public California native pollinator gardens she has spearheaded in Palo Alto. The focus for designing a habitat is productivity and resiliency and methods to achieve both will be discussed. "Form follows function" in the most general sense, is one of the guiding principles for a resilient habitat. Best practices for optimizing the functions of various plants and other habitat items will be discussed, as well as how to avoid creating an ecological trap. These methods are easily implemented and flexible so that they can be shared and built upon.
Juanita Salisbury, Ph.D., is a licensed landscape architect who grew up in exploring wild spaces in California and Oregon. She started gardening at around age thirteen and has been inspired by the beauty of gardens and nature ever since. With degrees in psychology, biopsychology, and landscape architecture, Juanita has established her own design firm focused on ecologically friendly, drought-tolerant planting.
This talk will be live streamed on YouTube and Zoom (requires advance registration).
Wednesday, April 14, 2021, 7:30pm
Gardening for Native Bees, a talk by John Kehoe
We all know about the European honeybee, but what about the native bees that live here in Santa Clara Valley? These local insects help pollinate our ornamental and edible plants, too! Once you know what to look for, you'll learn to recognize over a dozen bee species that live in our urban setting ̶ especially among locally-growing native plants. Find out how planting even a few select natives can enrich your garden and attract even more bees.
John Kehoe is a longtime member of CNPS as well as the Xerces Society. He is passionate about the natural world and is a lead volunteer as well as a board member of the nonprofit Ulistac Natural Area Restoration and Education Project (UNAREP). He is also a regular volunteer at various CNPS functions. His research interests include studying native bees and their relationships with native plants. He shares these interests by way of his photography on Flickr, CalPhotos, Bumble Bee Watch, and on his YouTube channel, He frequently posts on iNaturalist, especially on the California Pollination Project.
This talk will be live streamed on YouTube and Zoom (requires advance registration).
Wednesday, April 21, 2021, 7:30pm
Located in the southern Central Valley, the San Joaquin Desert is the smallest, least recognized and most imperiled true desert in North America, with less than 40% of its original area remaining. The desert was not formally described until 1995 and didn't gain recognition by the scientific community until 2011. The San Joaquin Desert is floristically distinct with 37 near-endemic and 40 strictendemic plant species. Nearly half of the species are imperiled and listed as endangered, threatened, rare or watch status. This presentation will delve into why it took so long for the San Joaquin to be recognized as a desert, how it is both climatically and floristically similar to the Mojave Desert and what we can do to conserve what little of it remains.
Ryan O'Dell has been a Natural Resource Specialist with the BLM Central Coast Field Office for 14 years. His primary duties include rare plant survey and endangered plant species monitoring and recovery in the central Inner South Coast Ranges and San Joaquin Desert.
This talk will be live streamed on YouTube and Zoom (requires advance registration).
---
Recent Talks
Wednesday, March 3, 2021, 7:30pm
Getting Started with Native Plants, a talk by Radhika Thekkath
Learn the advantages of incorporating even a few native plants into a Bay Area suburban garden. Whether the homeowner wants to put in three native plants in a small bed or convert the entire front yard, it is never easy to know where to start. This talk takes the fear out of this unfamiliar botanic world. With lots of photos and a list of just 22 plants of varying sizes, colors and shapes, the problem is made tractable. The chosen plants are easy to grow, maintain and water, and do well in the clay soil of our San Francisco Bay Area.
Radhika Thekkath is a retired computer scientist who has been gardening with native plants and has been an active member of our Chapter for over ten years. She recently returned to California after a three year stay in Washington state. Her more recent work includes active forestry management and stewardship as well as sustainable building with cob and straw bale. She is currently completing an in-depth course in permaculture design.
Handouts: Plant List, Slides
This talk can be viewed on YouTube.
Wednesday, February 24, 2021 7:30pm
Taking Close Up Plant ID pictures with a Camera Phone, a talk by Dee Himes
Plant identification in the field can be challenging, and capturing clear pictures of the parts of a plant that you'll need for later identification can be a frustrating exercise. Dee Himes will show you how to take quality close-ups with an iPhone and ōlloclip® lens adapter, and help understand what features of plants are needed to identify a plant from pictures. You'll never have to return home and be disappointed that your pictures are missing features or are too fuzzy to use.Plant identification in the field can be challenging, and capturing clear pictures of the parts of a plant that you'll need for later identification can be a frustrating exercise. Dee Himes will show you how to take quality close-ups with an iPhone and ōlloclip® lens adapter, and help understand what features of plants are needed to identify a plant from pictures. You'll never have to return home and be disappointed that your pictures are missing features or are too fuzzy to use.
Dee has been a CNPS member since the early 2000s, and served as our Chapter treasurer (2012-2014) as well as field trip chair (2014-2016). She's currently serving on both the state CNPS and our Chapter's board of directors. Dee has a passion for horticulture and photography and combines this love by photographing plants in their natural environment.
View this talk on YouTube.
Wednesday, February 17, 2021 7:30pm
The Natural History of San Bruno Mountain, a talk by David Nelson and Doug Allshouse
San Bruno Mountain is possibly the best undiscovered natural area in the greater San Francisco Bay Area. Thirteen rare and endangered plants, including six endemics, call the mountain their home. Four federally threatened or endangered butterflies live and breed here, the only place on Earth where they all co-exist. All told, there are 42 species of butterflies, 200 species of birds, 16 mammals, 13 reptiles and 6 amphibians. The mountain is a mélange of plants, vertebrates, and invertebrates that celebrate the incredible diversity that once existed within our state; a diversity that is vanishing at an astonishing rate, but that is being fiercely protected by people who simply refuse to allow it to disappear on the mountain. This talk will show you some of the natural wonders of this State and County Park and federallyprotected nature reserve and biological hotspot.
David Nelson is an orthopedic hand surgeon who has long been a student of nature. He took a CNPS tour of San Bruno Mountain led by Doug Allshouse in 2013 and was hooked by the beauty of the mountain and Doug's talent for explaining nature. When he proposed doing a book on the mountain to Doug, he discovered that Doug was already working on one and welcomed his participation. Doug Allshouse lives on San Bruno Mountain, 100 feet below the Saddle Trail, and has been exploring, studying, and recording their natural history since 1981. He was a founder and officer of Friends of San Bruno Mountain, beginning in 1996, as well as of the original Mission Blue Nursery in 2001. He has been working on a seven-year project with David Nelson writing an updated flora, The Natural History of the San Bruno Mountains.
This talk will be live streamed on YouTube and Zoom (requires advance registration).
Wednesday, February 3, 2021 7:30pm
Gardening for Biodiversity with Native Plants, a talk by Shelkie Tao
Native gardens provide so many benefits. They are beautiful, low water, low maintenance and support a wide variety of wildlife. A major advantage of native gardens is that they can be a great place to help us preserve biodiversity.
California is a hotspot of biodiversity: it "is home to more species of plants and animals than any other state, and is home to about one third of all species found in the United States, including more rare plants than most states have plants." However, "More than 30% of California's species are threatened with extinction."
The good news is that our gardens can help restore and preserve biodiversity. By planting a wide variety of native plants, including those that are facing extinction, native plant gardens can support plant biodiversity while supporting a large number of insects, pollinators and other forms of wildlife. In this meeting, Shelkie will talk about the biodiversity benefits of native plants, and go through some of the plants she uses in the gardens she designed.
Shelkie Tao is landscape designer and founder of WaterEfficientGardens.com, an online landscape design business that excels in low water and native plant garden designs. She is a sustainability-driven entrepreneur committed to developing water-saving and ecosystem-friendly solutions. Prior to Water Efficient Gardens, Shelkie worked over 10 years in the high tech industry in Silicon Valley. She received her Certificate of Achievement in Environmental Horticulture and Design from Foothill College, and MBA from the Anderson School at UCLA.
This talk will be live streamed on YouTube and Zoom (requires advance registration).
Maintaining Your Native Plant Garden, a panel talk
Wednesday, January 27, 2021 7:30pm
Watch on YouTube
Winter is a time of renewal for native plant gardens. As we hope for winter rain, we are also on the alert for the weeds they bring while taking advantage of the cooler temperatures and moisture to plant, prune, and take care of other important gardening tasks. Stephanie Morris, Lior Dahan, Patricia Evans and Madeline Morrow will share their winter garden maintenance routines. Bring your questions and any ideas you may want to share with others during a group discussion, and get your garden ready for spring!

Stephanie Morris is a landscape architect focused on creating designs that respond to ecology, aesthetics, and functionality with emphasis on native plants, healthy soil, water-conservation, and environmentally-conscious materials.. Lior Dahan has a degree in environmental horticulture and owns Rhythmic Gardening, an ecological garden maintenance company with a focus on working with nature to heal soil, grow healthy plants, and appreciate the wildlife in our gardens. Patricia Evans, owner of Natural Landscape Design, specializes in native plants and sustainable landscaping. Madeline Morrow is a past President of our CNPS Chapter and current board member. Her garden was featured in Bay Nature magazine in March 2013 and has been on the Going Native Garden Tour for many years.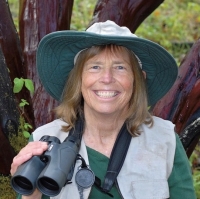 The Amazing Manzanita and All Her Relations, Kate Marianchild
Wednesday, January 13, 2021 7:30pm
Watch on YouTube
Manzanita! The word conjures visions of curvy reddish limbs reaching upward and outward into the sky, a feast for the fingers as well as the eyes. But there is much more to this plant than its striking beauty, including its talent for thriving in tough conditions. Have you ever wondered how 193 species and subspecies have managed to emerge since manzanita first appeared on the central California coast 37 million years ago?
In January, when manzanitas of all shapes and sizes will be glowing with small white or pink flowers, author and naturalist Kate Marianchild will explain some of manzanita's "mojo" ––its profound partnerships with fungi and bumblebees; its super-thin skin that both helps and hinders it; and its waxy leaves that follow the sun from dawn to dusk. She'll tell stories about pollination in middle C; unscrupulous "nectar thieves," and bark that peels around summer solstice. She'll also emphasize manzanita's vital role in the lives of animals––from ants and silk moths to birds and bears.
Kate Marianchild is the author of Secrets of the Oak Woodlands: Plants and Animals among California's Oaks (Heyday, 2014). This award-winning bestseller is an engaging and beautifully illustrated romp through California's most widespread habitat. With humor, affection, and scientific accuracy, Marianchild profiles the behaviors, social structures, anatomical marvels, and co-evolutionary relationships of twenty-two plants and animals found in California's oak woodlands.
Marianchild lives in a yurt near Ukiah surrounded by acorn woodpeckers, woodrats, newts, and five kinds of oaks. When she is not giving talks, guiding walks, or observing nature, she swims, sings, and advocates for the preservation of native plants and the food webs that depend on them. More information, as well as the opportunity to purchase signed copies of her book, close-focus binoculars, and oak identification guides, at katemarianchild.com.
---
Archives