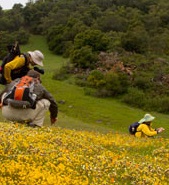 The California Native Plant Society (CNPS) is a non-profit organization dedicated to the understanding and appreciation of California's native plants and how to conserve them and their natural habitats through education, science, advocacy, horticulture, and land stewardship.
The Santa Clara Valley Chapter of CNPS covers Santa Clara County and southern San Mateo County. It offers activities focusing on the many aspects of native plants, from gardening, plant identification, and photography to conservation and rare plants. Activities include talks and lectures and workshops, field trips, native plant sales, wildflower show, restoration workdays, and more. The chapter was founded in 1972; more history can be found here.
---
Activities
Field Trips: The chapter conducts many outings during the year to areas of botanical interest, usually in the local area, but also occasional overnights to exciting, far off places. Each trip is a good opportunity to explore new places and meet new friends.
Programs: Bimonthly general meetings feature invited speakers sharing their knowledge of native plants in a friendly, accessible setting. A wide selection of native plant books is available at the book table. The meetings are open to members as well as the general public. The January meeting is Members' Photo Sharing Night, and the November meeting is a popular potluck dinner and annual election. Usually held at the Los Altos Library. Please refer to the calendar in the right margin for the date, time, and venue of the next meeting.
Outreach: The Chapter sponsors Public Native Plant Sales, an annual Going Native Garden Tour and periodic Wildflower Shows in addition to participating in activities with other organizations to promote the protection of natives in their natural habitat and the use of natives in landscaping.
Conservation: By means of persuasion, publicity, and legal action, we work to support the establishment and preservation of protected areas for native plants. We are often asked to write letters to our legislators, perhaps the most important of all our activities.
Rare Plants: The local populations of rare plants and plant communities are identified, monitored, and added to the CNPS inventory and state and federal data bases.
Invasives: Invasive, non-native species are increasingly threatening our native flora. Broom and teasel (at Stevens Creek and Edgewood parks respectively) are current targets of our efforts.
Photography: A popular program dedicated to improving photographic skills. A good way to learn more about photography and our native plants, and very good entertainment!
Gardening With Natives: An active online discussion group where novice and experienced native plant gardeners share information about growing native plants. Open to all.