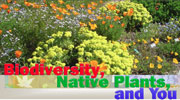 Biodiversity and the Native Plant Gardener
What makes California a world hotspot of biodiversity? Why should a home gardener care? Learn about the critical role native plants play in a healthy environment, how human pressures are driving them to the brink of extinction, and what you as a home gardener can do to save and celebrate them.
Arvind Kumar has been gardening with native plants for over 12 years and is a past president of our CNPS Chapter.