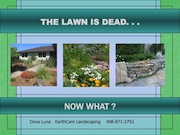 Be inspired to create a beautiful, water-wise garden! See a variety of no-lawn landscaping styles and ideas. Get professional tips on removing that brown, weed-filled patch called a lawn, learn to choose climate-adapted native plants, and find out how you might still qualify for landscape rebates. A talk by Deva Luna on July 9, 2014.
The handout for the presentation: Alternatives To Lawns
The video for the presentation.