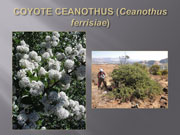 How the Anderson Dam Seismic Retrofit Has Led to New Insights into the Ecology, Evolution and Conservation of the Coyote Ceanothus (Ceanothus ferrisiae)
Anderson Dam bisects the largest population of the federally endangered coyote ceanothus, a serpentine endemic chaparral shrub. In order to mitigate for impacts to coyote ceanothus from the dam retrofit, a new population must be created.
Janell Hillman is a botanist at the Santa Clara Valley Water District, where she has worked for 15 years.