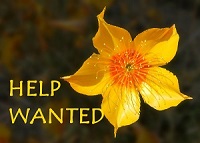 Volunteering for CNPS is a great way to express your support for preserving California's incredibly rich plant life. The Chapter is in need of help with our virtual events, a Treasurer and Field Trip Chair. We are looking for people to fill these important volunteer roles. For more information, contact Stephen Buckhout, Chair of the Leadership Development Committee, (408) 255-6233 or This email address is being protected from spambots. You need JavaScript enabled to view it..
These are volunteer positions.
Treasurer
The Treasurer is the Chapter's chief financial officer and is responsible for creating and maintaining current, accurate records of the Chapter's financial situation and prepares the annual Chapter budget and quarterly financial statements, which are reviewed at Chapter board meetings. The Chapter currently uses QuickBooks software, and it is desired that all candidates for this position will be familiar with or trainable on that or similar accounting software and its use in a cloud environment. Other responsibilities include making bank deposits, paying bills, reconciling bank statements and responding to financial inquiries. Contact Vivian Neou (This email address is being protected from spambots. You need JavaScript enabled to view it.) or Stephen Buckhout (This email address is being protected from spambots. You need JavaScript enabled to view it.) to discuss.
---
Our virtual events have opened up a variety of new volunteer needs. Here for your consideration are some wonderful opportunities to get involved, work with great people and start making a difference right away:
Q&A Moderator - Assist the programs team with Zoom and YouTube (potentially Facebook Live) in monitoring and queuing up incoming chat questions to be posed back to presenter(s). Our current programs have an average of 50-100+ attendees (and growing!). Various programs and shifts available.
Zoom Co-host - The co-host team for each of our virtual events on Zoom is responsible for monitoring the waiting room, chat and other behind-the-scenes issues. Experience with Zoom is desired but not required. Various programs and shifts available.
Contact Johanna Kwan (This email address is being protected from spambots. You need JavaScript enabled to view it.) or Madeline Morrow (This email address is being protected from spambots. You need JavaScript enabled to view it.)