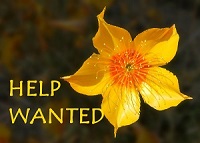 Volunteering for CNPS is a great way to express your support for preserving California's incredibly rich plant life. The Chapter is in need of help with our virtual events, Volunteer Recognition Program Coordinator and Field Trip Chair. We are looking for people to fill these important volunteer roles. For more information, contact Stephen Buckhout, Chair of the Leadership Development Committee, (408) 255-6233 or This email address is being protected from spambots. You need JavaScript enabled to view it..
These are volunteer positions.
Field Trip Chair
Our Chapter is looking for a Field Trip Chair (or co-chair). Many of you have enjoyed our trips over the years, and now you can step up to help us. The Field Trip Chair is not required to lead any trips, but would be the coordinator for our chapter's trip leaders and participants. The Chair holds periodic brainstorming sessions to plan an upcoming field trip schedule with field trip leaders, helps prepare and review newsletter descriptions, and assists with publicity and outreach. We've already got tons of great ideas for places to go since our chapter has offered so many wonderful field trips over the years – both locally and throughout the state, and this makes your job much easier. Existing trip guidelines and trip-leader training plans developed by past Field Trip Chairs will also get you started quickly. This is a great volunteer opportunity for someone who is organized and would like to gain an insider's knowledge of all the places to go in and around the Bay Area and far beyond! The Field Trip Chair arranges field trips for our membership and serves as a general public outreach. The chair coordinates with field trip leaders to choose field trip locations and dates, and publicize field trip descriptions. Contact Stephen Buckhout (This email address is being protected from spambots. You need JavaScript enabled to view it.) to discuss.
Volunteer Recognition Program Coordinator
The Chapter is looking for a volunteer to serve in the newly created role of Volunteer Recognition Program Coordinator. This individual will administer our newly expanded Volunteer Recognition Program. As the Coordinator, this person will be responsible for answering questions from members and the general public about the volunteer recognition program, monitoring self reported volunteer hours, monitoring and vetting nominations for the various award programs and bringing them to the Leadership Development Committee (LDC) for review and approval, and coordinating award articles for the Blazing Star and distribution of awards. As the first person to fill this position, this volunteer will have a significant impact on how the role is structured. The Volunteer Recognition Program Coordinator will provide regular reports to the LDC. For additional information or to apply, contact the Leadership Development Committee Chair, Stephen Buckhout, This email address is being protected from spambots. You need JavaScript enabled to view it. or (408) 255-6233.
Help with Virtual (Zoom) Events
Here are a couple wonderful opportunities to get involved, work from home, meet great people and make a difference. Contact Madeline Morrow (This email address is being protected from spambots. You need JavaScript enabled to view it.) if you're interested in these positions.
Q&A Moderator - Assist the programs team with Zoom and YouTube (potentially Facebook Live) in monitoring and queuing up incoming chat questions to be posed back to presenter(s). Our current programs have an average of 50-100+ attendees (and growing!). Various programs and shifts available.
Zoom Co-host - The co-host team for each of our virtual events on Zoom is responsible for monitoring the waiting room, chat and other behind-the-scenes issues. Experience with Zoom is desired but not required. Various programs and shifts available.