Alum Rock Park
Quick Trail Restoration
The Quick Trail Restoration is the newest project at Alum Rock Park. The restoration is at the very top of the Quick Trail and has wonderful views of Santa Clara County, from the bay and Palo Alto ( on a clear day) to Morgan Hill. The area was chosen because of the very large populations of Poison Hemlock and the possibility that all that seed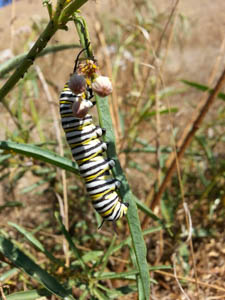 would, over time spread downhill over much more of the park. The area is downhill from OSA's Sierra Vista Open Space Preserve, so this area gets more moisture than much of the other south facing slopes. Now that most of the weeds are cleared, we're seeing natives like the narrow leaf milkweed popping up arround the rocks, where there is more moisture ( photo taken end of August 2015).
There is a much larger population of milkweed in Sierra Vista, and we look forward to more plants on "our side of the fence" now that they are not being shaded out.
We've planted a number of Buckeyes and Elderberrys in the area, and hopefully they'll do well here.
The Fire Meadow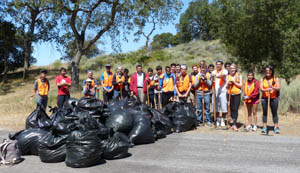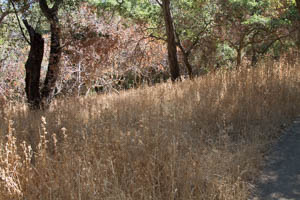 The Fire Meadow is part of a mixed oak woodland above Inspiration Point at Alum Rock Park. There was a small fire there about 5 years ago. With the reduced canopy, there was a chance for weeds to take over large parts of the area, and thistle was rampant by the time we inspected the area. Because it was upslope from our Inspiration Point restoration, it was a candidate for a new restoration.
With plenty of volunteer labor, we have cleared this newer restoration area, and are now seeing the return of natives to the area. We have large populations of Hedge Nettle, Soap Lily, and Pacific Sanicle. We have also seen a few Ithuriel's spear. In 2014 Central Coast Wilds nursery donated 60 trees to our restorations and 56 of those trees have been planted at these two restoration sites as well as a new site at the top of the Todd Quick Trail. To protect the trees from browsing be deer, we have installed a number of plant cages. We have also propagated several hundred other natives from seed gathered at the park. These include various grasses, flowers and shrubs.
Inspiration Point at Alum Rock Park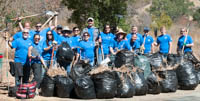 The Alum Rock Park restoration at Inspiration Point in Alum Rock Park is a beautiful location with great views of San Jose and the Bay. There is a fine selection of mature native trees and shrubs, but invasives were taking over large sections.
We started about two years ago and since then have met at least once a month on the third Saturday of the month. The group is called Weed & Walk as we try to include some education in each meeting. If you'd like to get involved please go to the yahoo group Alum Rock Park Volunteers and click "JOIN". We're happy to have volunteers, but park regulations require volunteers to be at least 15 Yrs old. We are also happy to schedule special work days for groups.