Home
Help Fund Scholarships For Years To Come
Details

Parent Category:

Education

Category:

Scholarships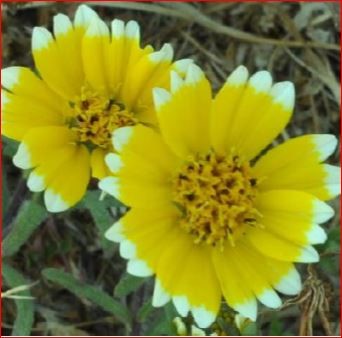 Since 1999, the Santa Clara Valley Chapter of the California Native Plant Society (CNPS) has given scholarships to graduate students whose research is likely to make a positive impact on the local botany and ecology. CNPS uses these scholarships to encourage students to choose thesis topics that relate to our local flora. These scholarships help foster a new generation of scientists interested in preserving what is left of Santa Clara and San Mateo County's plants, butterflies, and birds.
Download the full document to learn more.
Metcalf Canyon Jewelflower Reintroduction Volunteers Wanted
Details

Category:

Habitat Restoration
This winter, Santa Clara University and Creekside Center for Earth Observation are reintroducing the
endangered Metcalf Canyon Jewelflower (top photo) to Tulare Hill in southern Santa Clara County. During the past year, we grew over 200 plants from wild-collected seeds for seed bulking. With the help of CNPS volunteers & SCU students this past summer (bottom photo), we harvested over 50,000 seeds! In preparation for the upcoming experimental reintroduction, we now need to divide them into groups of 100 seeds.
WHAT: We are looking for volunteers to help us weigh and package seeds for planting.
WHEN: Monday, November 25th through Wednesday, November 27th from 10:00am-2:00pm
RESTORE THE THORNMINT
Details

Category:

Habitat Restoration
The San Mateo County Parks Foundation seeks funding to continue the restoration of the endangered San Mateo thornmint population.  Previous grants have expired and securing funding for future years is in process, but a gap in funding may mean that the December 2013 seeding window will be lost. The Citizinventor community can bridge this gap, offering the plant a helping hand!
The San Mateo thormint Acanthomintha duttonii is a federal and state endangered annual mint.  As various plant populations have been lost in the past decade, it is now found only in Edgewood County Park and Natural Preserve in San Mateo County, CA. The exact location of this population is secret in order to protect it. This one population has been in decline for years. Pavlik and Espeland (1998) estimated over 53,000 plants in 1994 but only 249 individuals were counted in 2008.
Edgewood County Park and Natural Preserve is known for its biological diversity and amazing wildflower displays. A popular park for hiking and running, it also is home to many threatened and endangered species. San Mateo County Parks and its partners, the Friends of Edgewood, California Native Plant Society and the San Mateo County Parks Foundation work together on a variety of restoration activities. These activities are a core message in the docent-led educational walks for the general public and school groups and at the recently constructed educational center.
The San Mateo thornmint restoration project began in 2008 and includes conducting habitat enhancement experiments at the existing site, adjacent habitat suitability surveys for potential introductions, collecting and banking seed from the existing population, and initiating a seed increase program that is in its fifth year. A major highlight of this project has been two years of seeding at Edgewood, resulting in a population high of 3,450 on May 24, 2011. In order to test the effectiveness of various techniques, no seeds, beyond those released naturally by the plants, were sowed in 2011 and 2012. Due to low rainfall in 2012 and 2013 at the critical time in the plant's lifecycle, the number of plants counted dropped to 934 in 2012 and 875 in 2013.
But restoration at Edgewood is about more than just helping special species survive. Because loss of habitat at Edgewood is complicated by nitrogen deposition from vehicular exhaust and by non-native invasive species, on-going habitat restoration is required. Integrating research monitoring the effectiveness of a variety of restoration techniques into the restoration activities yields important information on how to effectively use funding and volunteer efforts. While this helps focus resources at Edgewood, the scientific knowledge is also shared so that other park agencies can use the information to guide their management and restoration practices.
Funding for future years has been identified but is not yet available. We must raise funds now in order to take advantage of the December 2013 seeding opportunity. This will help us boost the population and provide additional data. 
$5,000 provides funding for scientists' seeding, monitoring and reporting activities this year. Donate today to help us continue the restoration of the endangered San Mateo thornmint population!
Please go to http://www.citizinvestor.com/project/restore-the-endangered-thornmint to help