2018 CNPS SCV Potluck Picnic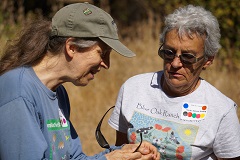 Please join us for the 2018 CNPS Santa Clara Valley Chapter Picnic Potluck Social at Stevens Creek County Park on Sat, September 15, 2018 from 11:00 AM – 3:00 PM . This is a gathering for our many wonderful volunteers and members. If you're thinking about joining CNPS, come and hang out with us too. It's your chance to catch up with fellow volunteers and members as well as meet new ones. Space is limited, so please RSVP soon at:
https://www.eventbrite.com/e/2018-cnps-scv-potluck-picnic-tickets-46896646131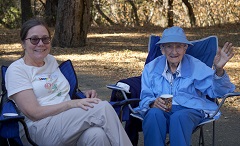 Event Details:
Lunch begins at approximately 12:30.
The chapter will provide tri-tip, chicken, and a vegetarian entrée, water and drinks. Guests are encouraged to bring other items such as appetizers, salads, finger-foods, desserts, chips, etc. to share with other picnic attendees. We will not be having a barbecue due to fire concerns. Guests are welcome to bring alcohol.
The chapter will provide paper plates, cups and plastic utensils, but we encourage our members to bring in their own eating utensils and to pack out their own trash as much as possible.
A short group hike is planned starting at 2:00 pm from the parking lot.
Parking is free in the lot next to the picnic site.
If you have one, please wear your CNPS name tag.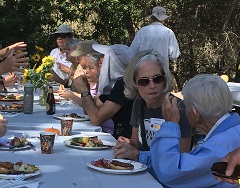 The picnic will be held at the Villa Maria Group Site at Stevens Creek County Park in Cupertino.
Directions to Villa Maria Group Picnic Site:
From the Foothill Boulevard exit off I-280, head south on North Foothill Boulevard for about two miles.
(Foothill Boulevard becomes Stevens Canyon Road after you pass McClellan Road.)
Watch for signs for Stevens Canyon County Park on the left (if you see the lake, you've gone too far!)
Continue into the park – watch the signs for Villa Maria, the park road will turn left and go up a hill to the site.
The parking area is on your left at the top of the hill.
Use this link to get Google directions:https://goo.gl/maps/8vX46crL6Wo
Stevens Creek County Park Map:https://www.sccgov.org/sites/parks/parkfinder/Documents/StCrkMainFinal.pdf