CNPS Santa Clara Valley Chapter Field Trips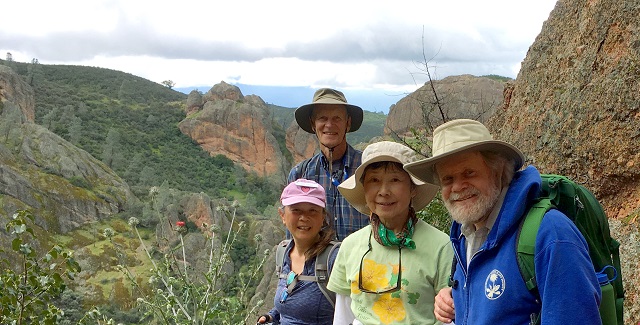 Chapter field trips are free and open to the public.  Field trips are oriented to conservation, protection and enjoyment of California native plants and wildlife.  A list of past field trips and reports can be found here.
 Many other upcoming chapter activities are listed in the Blazing Star. You can also find many of our chapter field trips and other activities on our Meetup Group.  Signing up on Meetup allows the trip leaders to send notifications in case of changes or cancellations.
 In our region it is important to be prepared for hiking on rugged and steep terrain, wide temperature ranges and rapidly changing conditions at any time of year.  All participants should wear sturdy footwear and carry sufficient water, sun protection, food, clothing layers, personal first aid and other supplies you may need.  Cell service is mainly restricted to cities and major highways. On your way to an outing do not rely solely on your phone. If you have any questions about your ability to participate in a particular field trip, please contact the trip leader in advance.
---
FEBRUARY

Sat Feb 15 10am – 3pm Dirca - Rancho San Antonio Open Space Preserve (Cupertino)
Join Don Thomas to see the endemic western leatherwood (Dirca occidentalis) at Rancho San Antonio on the Wildcat Canyon Trail. It has been many years since we visited this, the second southernmost population of dirca. (We have recently seen the southernmost population, at Stevens Creek.) We will also see some early emerging woodland plants in flower. There will be some moderate but slow-paced hill climbing, with a stop for lunch. As an exercise in rare plant documentation, we will fill out a CNPS Rare Plant Treasure Hunt form. Bring lunch, water and warm clothes.
Directions: Because the parking lots at Rancho San Antonio can be expected to be full, we will meet at the Montclaire Elementary School at 1160 St Joseph Avenue in Los Altos and walk a few blocks to the St. Joseph entrance of Rancho San Antonio and then walk past Deer Hollow Farm to the Wildcat Canyon Trail. For more information, please contact Don Thomas at This email address is being protected from spambots. You need JavaScript enabled to view it. or (408) 828-4044.

Sun Feb 23 10am-4pm Hazelnut Trail, Montara Mountain, San Pedro Valley County Park (Pacifica)
Join co-leaders Ken and Dee Himes on an early spring outing at San Pedro Valley County Park. We expect to see some early blooms: Montara manzanita (Arctostaphylos montaraensis), pink-flowering currant (Ribes sanguineum glutinosum), fetid adder's tongue (Scoliopus bigelovii), Oregon windflower (Anemone oregana) and others.
The trip will be a moderate 4-5 mile loop hike through coastal scrub and chaparral plus some riparian woodland. It will include an elevation gain and loss of about 600 feet and is expected to last until 4pm. For more information contact at Dee at This email address is being protected from spambots. You need JavaScript enabled to view it. or Ken at (650) 591-8560.
Directions: The Park is located at 600 Oddstad Blvd. in Pacifica. From the South Bay, take I-280 North then merge onto Skyline Blvd./CA-35 via exit 41 toward Pacifica. After 3.5 mi. turn left onto Sharp Park Rd. down towards the coast. Follow the signs for Cabrillo Hwy./CA-1 South toward Santa Cruz. Go for 2.5 mi. then turn left at Linda Mar Blvd., go for 2 more miles to where the road ends at Oddstad. Turn right and then immediately left into the park. The County Park day use fee is $6 per vehicle, bring exact change.
We'll meet at 10am in front of the Visitor Center. Bring water and a lunch, snacks. Very heavy rain cancels.
---
MARCH

Sun Mar 15 10am - 4pm San Bruno Mountain State & County Park (Brisbane)
Join Ken and Dee Himes for a hike along the Summit Loop Trail to see early flowering plants in the coastal scrub and coastal grassland plant communities. We expect to see footsteps of spring (Sanicula arctopoides), Franciscan wallflower (Erysimum franciscanum) and the endemic San Bruno Mountain manzanita (Arctostaphylos imbricata). The hike will be 3.5 to 4 miles in length with 800 feet in elevation changes.
Dress warmly in layers as it can be very windy, and wear sturdy shoes or hiking boots. Hiking poles are recommended as some areas are very steep. Bring snacks, a sack lunch and liquids for the day. Heavy rain cancels. For more information call Ken at (650) 591-8560 or email Dee at This email address is being protected from spambots. You need JavaScript enabled to view it..
Directions: From Hwy. 101 northbound, take the Old Bay-shore/Brisbane exit and proceed north on Old Bayshore, past the town of Brisbane. Make a left turn onto Guadalupe Cyn. Pkwy., and follow it uphill (west) about a mile and a half to the park entrance. We will meet at the parking lot just beyond the entrance kiosk. There is a $6 day use / parking fee at pay station; bring exact change or credit card.