CNPS Santa Clara Valley Chapter Field Trips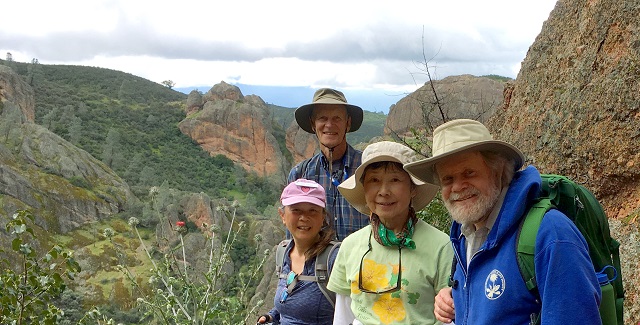 Chapter field trips are free and open to the public.  Field trips are oriented to conservation, protection and enjoyment of California native plants and wildlife.  A list of past field trips and reports can be found here.
 Many other upcoming chapter activities are listed in the Blazing Star. You can also find many of our chapter field trips and other activities on our Meetup Group.  Signing up on Meetup allows the trip leaders to send notifications in case of changes or cancellations.
 In our region it is important to be prepared for hiking on rugged and steep terrain, wide temperature ranges and rapidly changing conditions at any time of year.  All participants should wear sturdy footwear and carry sufficient water, sun protection, food, clothing layers, personal first aid and other supplies you may need.  Cell service is mainly restricted to cities and major highways. On your way to an outing do not rely solely on your phone. If you have any questions about your ability to participate in a particular field trip, please contact the trip leader in advance.
---
MARCH

Mar 23 - 24 Sugarloaf Ridge State Park (Sonoma County)
Join trip leader Patricia Evans and a biologist from the Sonoma Ecology Center to tour an area in Sonoma County that severely burned in 2017. See amazing fire followers and how the area is recovering! Leave home early Saturday and meet at 10 am at Sugarloaf Ridge State Park, then camp overnight at the park after hiking. On Sunday, we will visit the vernal pools in Sonoma Valley Regional Park near Glen Ellen before heading for home. Cost is about $20/person for camping and biologist fee. Sugarloaf Ridge is in the Sonoma Valley near Kenwood, between Santa Rosa and the City of Sonoma, so you may want to plan an extra day before or after the trip to do other things in the area.
Please reserve with Patricia Evans by calling 650-949-2801 asap (she is out of town right before the trip). You can also email This email address is being protected from spambots. You need JavaScript enabled to view it., but you are not guaranteed a spot until she calls you back, so please include a phone number.

Sun Mar 24 9am - 12pm First Day of Spring Beginner's Bird and Plant Identification Walk @ Lake Cunningham Park (San Jose)
Do you love being outdoors? Do you want to deepen your appreciation of nature by learning the names of birds and plants around you? As Spring begins, join us for the first walk of its kind this year: a beginner's bird and plant identification walk through Lake Cunningham Park. Lake Cunningham is a major destination for waterfowl and migratory birds, and its native garden is home for many resident birds for its habitat value. On this walk, Vicki Silvas-Young will show you how to identify the common birds of our area, as well as the native plants they depend on for food, shelter, and nesting places.
Difficulty Level: The distance is 4 miles round trip on a level path.
Notes: Bring a hat, water, your bird and plant list, and binoculars. Wear comfortable walking shoes. Parking fee is $6. Meet at the Marina building at 9:00 am. The Marina is on the western shore of the lake, next to Raging Waters, at the opposite end of the park from the main entrance on White Road. In google maps, search for "Lake Cunningham Marina" to be directed to the Marina.
Space is limited. RSVP via Meetup to reserve your spot. Cosponsored by CNPS, Santa Clara Valley Audubon Society, and Open Space Authority.
---
APRIL

Wed Apr 3 - Thu Apr 4 North Table Mountain Ecological Reserve and Feather Falls (Butte County)
Join co-leaders Judy Fenerty and Joerg Lohse to explore the approximately 3,300 acre North Table Mountain Ecological Reserve near Oroville. We'll meet at the reserve at 11 am, and wander across the basalt mesa, crossing streams and enjoying the spectacular wildflowers that occur in this unique environment. After our day exploring Table Mountain, we'll hike Feather Falls on Thursday. Feather Falls is a moderately strenuous, 8-mile loop hike with an elevation gain of ~1,700 feet. We'll stay over Wednesday night, with options to camp near Feather Falls or stay in motels in the Oroville area.
Space is limited and this trip is limited to CNPS members only. Please email Judy Fenerty at This email address is being protected from spambots. You need JavaScript enabled to view it. to register and get directions and trip details.

Sun Apr 7 10am - 4pm Uvas Canyon County Park (Morgan Hill)
Join Ken and Dee Himes on a 3.5-4 mile hike in this mostly shady woodland of mixed evergreens including redwoods, madrones, sycamores, alders and big leaf maples. There are also isolated populations of Oregon grape (Berberis nervosa) here, which is more commonly found north of the Golden Gate. We also expect to see such plants as canyon liveforever, Dudleya cymosa, Inside-out-flower, Vancouveria planipetala, to name a few.
PRE-PAID PARKING ALERT : There is a $6 fee per car and you must make your own pre-paid parking reservation as soon as possible due to high traffic volume for viewing waterfalls. Go to gooutsideandplay.org to make your own reservation. You must arrive within the time slot you selected. Please read their instructions carefully or call the County Park directly.
We'll meet in the parking lot at 10am sharp. Allow time for parking and using facilities. The hike will be moderate in intensity, with an elevation gain of about 700 feet. We will walk at a fairly leisurely pace, stopping for lunch about halfway. Be sure to wear good hiking shoes, dress in layers and a walking stick could be useful. Bring snack and lunch, and plenty of water. Heavy rain cancels. For more information contact Ken at (650) 591-8560.
Directions: From Hwy. 101, take the Bailey Ave. exit to head southwest on Bailey 3.2 mi. to McKean Rd. Turn left onto McKean. (McKean becomes Uvas Rd. 2.2 mi. south of Bailey.) From Bailey travel 6 mi. south on McKean/ Uvas Rd. and turn right onto Croy Rd. Continue 4.4 mi. on Croy, through Sveadal (a private resort), to reach the Park entrance. For more information visit the park website.

Sat Apr 13 10am - 12pm Vernal Pool Wildflower Walk (Fremont)
Come see the wildflower blooms around some of the last intact vernal pools in the East Bay, at the Warm Springs Unit of the Don Edwards San Francisco Bay National Wildlife Refuge in Fremont! Enjoy learning about the unique features of a vernal pool grassland and about the endangered species supported by this habitat, particularly the beautiful endangered Contra Costa goldfield. There are several other vernal pool and grassland plants, and wildlife, to see at this time of year as well!.
This unit of the Don Edwards San Francisco Bay National Wildlife Refuge is normally closed to the public. There are no restroom facilities at this site so please plan accordingly..
Heavy rain will cancel. Please wear sturdy shoes and bring water and sunscreen/hat. Must be able to walk through uneven terrain throughout tour and climb over fence ladder (like a step ladder)..
Please note: Directions to the meet place will be emailed to you once you register. You must follow this link and register through the refuge's EventBrite registration process. John and Becky Bradley will be there to meet and greet and lead this relatively short, 2-hour hike. Call (510) 565-0908 if you have questions..

Sun Apr 14 10am - 2pm Beginners Wildflower Id Walk @ Stile Ranch Trailhead, San Vicente Ave (at Fortini Rd), San Jose
The serpentine hills of Stile Ranch are home to a rich diversity of native annual and perennial wildflowers, and the display this year is expected to be particularly exuberant. Join Arvind Kumar and Ashok Jethanandani on this walk to learn to identify the common wildflowers of our area. We will also examine the foliage (and fruit where available) of each species, to get a leg up on recognizing them out of bloom. Beginners interested in plant identification are welcome; prior knowledge of native plants or botany is not required.
On this loop hike, we will go up the Stile Ranch Trail and return via the Fortini Trail. The distance covered is 2.6 miles with 450' of elevation gain/loss. Meet at the Stile Ranch Trailhead parking lot on San Vicente Avenue just west of the T-junction with Fortini Road. (In google maps, search for "Stile Ranch Trailhead".) Parking is limited; carpooling recommended.
Bring a hat, water, a bag lunch, and your favorite trail accessories (camera/smartphone/hand lens/binoculars/field guide/none). Dress in layers, and appropriately for the weather. RSVP via meetup.com.

Thu Apr 18 10am – 3pm Picchetti Ranch Open Space Preserve (Cupertino)
Join co-leaders Joe Cernac and Kate Gudmundson for an easy hike through foothill oak and shrub. Thanks to this month's added warmth, we expect to see many spring bloomers. We expect a 4-mile mile round trip with 600 ft elevation climb back to the trailhead. Bring lunch and liquids. For more information, contact Joe at (408) 292-5465 or This email address is being protected from spambots. You need JavaScript enabled to view it..
Directions: From I-280, exit Foothill Blvd., proceed south on S. Foothill Blvd. continuing on Stevens Creek Blvd. once the foothills are reached. Turn right onto Montebello Rd., turn at first left into Picchetti Ranch Winery and OSP. The driveway will split, do take the right driveway to OSP parking lot. We will meet at the parking lot at 10am.
---
MAY

Sat May 11 - Wed May 15 Lost Coast Backpacking Field Trip (Humboldt County)
Join Joe Cernac and Trevlyn Williams for a 25-mile hike in 4 days along the Lost Coast, a pristine, undeveloped stretch of California coastline. Although there is virtually no elevation gain, this is a surprisingly strenuous off-trail hike on beaches, in sand and over rocks. We will take our time while Joe identifies plants and Trevlyn points out marine wildlife.
This website
has detailed information on the Lost Coast but is somewhat outdated, reservations are now required and we need to purchase our permits at least 30 days in advance. With bear activity and no trees to hang food, bear canisters are required and we plan on renting them from the BLM office. For more information and to sign up for this field trip contact Joerg Lohse at
This email address is being protected from spambots. You need JavaScript enabled to view it.
.
Itinerary:
On Saturday May 11th, we drive to Shelter Cove, CA and meet at Black Sands Beach to carpool, rent our bear canisters and explore the area. From Sunday through Wednesday we will be hiking from Mattole Beach to Black Sands Beach along the Lost Coast. Projected campsites are near creeks and wind sheltered. On May 15, Black Sands Beach will be reached, car shuttle arrangements completed, and we will drive home.