CNPS Santa Clara Valley Chapter Field Trips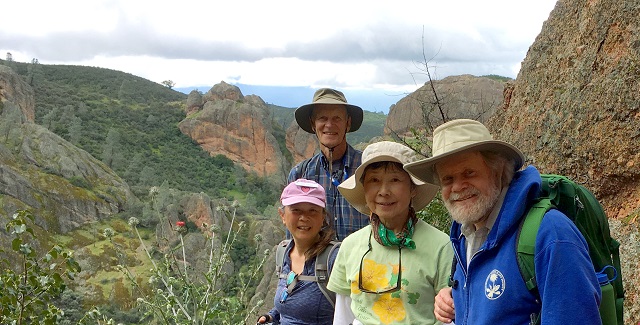 Chapter field trips are free and open to the public.  Field trips are oriented to conservation, protection and enjoyment of California native plants and wildlife.  A list of past field trips and reports can be found here.
 Many other upcoming chapter activities are listed in the Blazing Star. You can also find many of our chapter field trips and other activities on our Meetup Group.  Signing up on Meetup allows the trip leaders to send notifications in case of changes or cancellations.
 In our region it is important to be prepared for hiking on rugged and steep terrain, wide temperature ranges and rapidly changing conditions at any time of year.  All participants should wear sturdy footwear and carry sufficient water, sun protection, food, clothing layers, personal first aid and other supplies you may need.  Cell service is mainly restricted to cities and major highways. On your way to an outing do not rely solely on your phone. If you have any questions about your ability to participate in a particular field trip, please contact the trip leader in advance.
---
NOVEMBER

Sun Nov 17 10am-3pm Beginner's Plant Id Walk @ Rancho Cañada del Oro (Morgan Hill)
Are you confounded/stymied/intimidated by botanic names? Why say "Heteromeles arbutifolia" when "toyon" will do? Why use botanic names? What do they mean? What is the correct pronunciation?
Join Arvind Kumar and Ashok Jethanandani for a walk through this beautiful preserve as we identify the plants around us. We intend to tackle botanic names head on – with roots in Greek or Latin, each botanic name tells its own story. Toyon's botanic name translates as "different apple with madrone-like leaves", a reference to its red berries and serrated-edge foliage. We may even learn how to say it right (secret tip: with confidence!).
We will go up the Mayfair Ranch Trail and return via the Longwall Canyon Trail. The distance covered is 4.3 miles with 500' of elevation gain. We will walk through a variety of habitats: grassland, oak woodland, scrub, chaparral, and riparian. Expect to see oaks, bay laurel, madrone, bigberry manzanita, toyon, coffeeberry, buckeye, holly-leaved cherry, and snowberry. Beginners and enthusiasts alike are welcome; prior knowledge of native plants or botany is not required.
Meet in the preserve parking lot at 10 am. Bring a hat, water, and a bag lunch. Dress in layers, and appropriately for mid-fall weather. Heavy rain cancels. RSVP through meetup.com ("California Native Plant Society – Santa Clara Valley Chapter") or at the OSA Events page (https://www.openspaceauthority.org/visitors/events.html).

Wed Nov 20 10am-2pm Uvas County Park (Morgan Hill)
Join Joe Cernac for an easy three mile hike, where identification characteristics of late season trees and shrubs will be the theme. Unusual plants are barberry (Berberis nervosa) and inside out flower (Vancouveria planipetala).
Meet at first parking lot at 10am. Pay $5 parking fee at vending machine (bills and cards accepted). Park info at: https://www.sccgov.org/sites/parks/parkfinder/Pages/UvasCanyon.aspx. For more info call leader, Joe Cernac, at phone number 408 292 5465.
---
DECEMBER

Sat Dec 7 10am-2pm Moss Hike in Almaden Quicksilver Park (San Jose)
Join Ben Carter, botany professor at SJSU, for a 2.5 mile walk to learn about bryophytes (mosses, liverworts and hornworts) of the Bay Area. This is an entry-level walk that will emphasize seeing different bryophyte species in nature and learning about their morphology, ecology and natural history.
There will be a moderate uphill climb, but the path is well-shaded and we'll be moving very slowly. Bring a hand lens if you have one, but we can easily share if there are not enough to go around. Bring lunch, snacks and liquids. We'll head out in any conditions except for heavy rains.
We will meet at Almaden Quicksilver County Park, at the Hacienda Entrance parking lot, which is at the southern tip of the park along Almaden Road. For more information, contact Ben Carter at This email address is being protected from spambots. You need JavaScript enabled to view it. or 805-704-0616.

Sun Dec 22 9am-noon First Day of Winter Beginner's Bird and Plant Identification Walk at Lake Cunningham Park (San Jose)
Do you love being outdoors? Do you want to deepen your appreciation of nature by learning the names of birds and plants around you? At the onset of winter, join us for a beginner's bird and plant identification walk through Lake Cunningham Park, a major destination for waterfowl and migratory birds. Its native garden is home for many resident birds for its habitat value. On this walk, Vicki Silvas-Young will show you how to identify the common birds of our area, as well as the native plants they depend on for food, shelter, and nesting places. Difficulty Level: The distance is 2 miles round trip on a level path. Notes: Bring a hat, water, your bird and plant list, and binoculars. Wear comfortable walking shoes. The park is located at 2305 S White Road, San Jose. Meet at the Marina building at 9am. The Marina is on the western shore of the lake, next to Raging Waters, at the opposite end of the park from the main entrance on White Road. In google maps, search for "Lake Cunningham Marina" to be directed to the Marina. Parking fee is $6.
Space is limited. RSVP through meetup.com ("California Native Plant Society – Santa Clara Valley Chapter") or through the Open Space Authority events page (Events at Open Space Preserves).
This plant walk is organized jointly by the California Native Plant Society, Santa Clara Valley Audubon Society, and the Open Space Authority, and is open to all.
---
2020
---
JANUARY

Wed Jan 1 10am-1pm Año Nuevo State Preserve New Year Hike (San Mateo County)
Join us as we celebrate a Chapter tradition of welcoming the New Year with a walk and picnic at Año Nuevo State Preserve on the San Mateo County coast. Trevlyn Williams, a docent at this preserve, will lead the hike together with Joerg Lohse.
The preserve is located south of Pescadero on Highway 1, just north of the Santa Cruz County line. This year, we will meet at 10am in the North Whitehouse Creek Trail dirt parking lot north of the main area of Año Nuevo State Park. We will be exploring Franklin Point which is the botanically most interesting area of Año Nuevo State Park. Parking is free there. We'll enjoy ocean views, coastal prairie (Ambrosia chamissonis, Ericameria ericoides, Artemisia pycnocephala, Potentilla anserina, ...), dune (Abronia latifolia, Abronia umbellata, Heliotropium curassavicum, Leymus mollis, ...), and sea cliff (Dudleya farinosa, Jaumea carnosa, ...) vegetation, raptors, songbirds and maybe marine mammals.
Directions: We are meeting at the North Whitehouse Creek Trailhead which is across from Rossi Rd, the Costanoa Lodge turnoff. This is 3.7 miles south of Pigeon Point Rd (the lighthouse). Note that there are no bathrooms at Franklin Point. Flush toilets are located at the main entrance of Año Nuevo State Park. Trevlyn lets the kiosk staff know that we are coming and there will be no charge for parking if we just use the restrooms.
As this is a day to have fun at the beach with fellow Chapter members, the ending time and depth of botanical discussion may be extended depending on participants.
Bring binoculars and layers of clothing for variable conditions including wind, sun and fog. Extreme weather cancels. For more information, contact Joerg at This email address is being protected from spambots. You need JavaScript enabled to view it..

Wed Jan 8 7-8:30pm Field Trip Planning Meeting - PCC (Palo Alto)
We will be scheduling the remainder of the spring and summer field trips, plus any field trips we may want to have for the rest of the year. With more knowledge of the winter weather patterns, we may make plans for away trips. All are welcome to join in the discussion.
Directions: The Peninsula Conservation Center is located at 3921 E Bayshore Rd in Palo Alto. From Hwy. 101 take the San Antonio Rd. exit and head north. Take the next left onto East Bayshore, which will curve left then right. Take the next right onto Corporation Way. The entrance to the PCC parking lot is the first driveway on the left. We will be meeting in the PCC Library.
FEBRUARY

Sun Feb 23 10am – 4pm Hazelnut Trail, Montara Mountain, San Pedro Valley County Park (Pacifica)
Join co-leaders Ken and Dee Himes on an early spring outing at San Pedro Valley County Park. We expect to see some early blooms: Montara manzanita (Arctostaphylos montaraensis), pink-flowering currant (Ribes sanguineum glutinosum), fetid adder's tongue (Scoliopus bigelovii), Oregon windflower (Anemone oregana) and others.
The trip will be a moderate 4-5 mile loop hike through coastal scrub and chaparral plus some riparian woodland. It will include an elevation gain and loss of about 600 feet and is expected to last until 4pm. For more information contact at Dee at This email address is being protected from spambots. You need JavaScript enabled to view it. or Ken at (650) 591-8560.
Directions: The Park is located at 600 Oddstad Blvd. in Pacifica. From the South Bay, take I-280 North then merge onto Skyline Blvd./CA-35 via exit 41 toward Pacifica. After 3.5 mi. turn left onto Sharp Park Rd. down towards the coast. Follow the signs for Cabrillo Hwy./CA-1 South toward Santa Cruz. Go for 2.5 mi. then turn left at Linda Mar Blvd., go for 2 more miles to where the road ends at Oddstad. Turn right and then immediately left into the park. The County Park day use fee is $6 per vehicle, bring exact change.
We'll meet at 10am in front of the Visitor Center. Bring water and a lunch, snacks. Very heavy rain cancels.