CNPS Santa Clara Valley Chapter Field Trips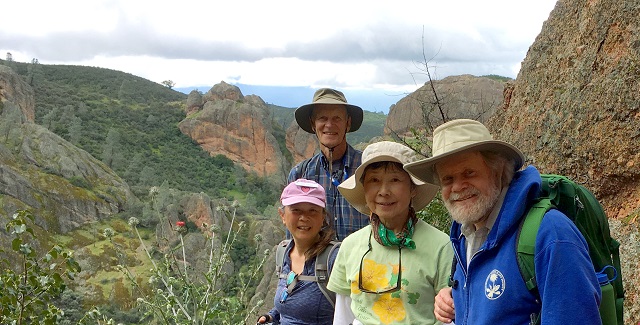 Chapter field trips are free and open to the public.  Field trips are oriented to conservation, protection and enjoyment of California native plants and wildlife.  A list of past field trips and reports can be found here.
 Many other upcoming chapter activities are listed in the Blazing Star. You can also find many of our chapter field trips and other activities on our Meetup Group.  Signing up on Meetup allows the trip leaders to send notifications in case of changes or cancellations.
 In our region it is important to be prepared for hiking on rugged and steep terrain, wide temperature ranges and rapidly changing conditions at any time of year.  All participants should wear sturdy footwear and carry sufficient water, sun protection, food, clothing layers, personal first aid and other supplies you may need.  Cell service is mainly restricted to cities and major highways. On your way to an outing do not rely solely on your phone. If you have any questions about your ability to participate in a particular field trip, please contact the trip leader in advance.
---
FEBRUARY

Sat Feb 9  9:00am – 1:30pm  Fetid Adder's Tongue, Pulgas Ridge Open Space Preserve (Redwood City)
Join Alf Fengler, Ken and Dee Himes for a proper start of the spring wildflower season with a pleasant walk through this easily accessible Open Space Preserve. We often see over 1,000 individual wildflowers in bloom this early in the season!
As experienced docents at Edgewood, Alf and Ken will be able to point out some flowering plants in Pulgas Ridge that don't occur at Edgewood, such as fetid adder's tongue (Scoliopus bigelovii) and coast man-root (Marah oreganus). This trip will be an easy 3-mile loop hike through oak woodland, mixed evergreen woodland, chamise chaparral, and coastal scrub, combined with a little bit of riparian woodland. If needed, we will split into two or three groups to provide a more individualized experience.
The trip will include an elevation gain and loss of about 400 feet. For more information contact Alf Fengler at This email address is being protected from spambots. You need JavaScript enabled to view it. or (650) 345-7045. Heavy rain cancels.
Directions: From I-280, take the Edgewood Rd. exit in San Carlos and head east. Go downhill to the first left, which will be Crestview Dr. Make an immediate left at Edmonds Rd. and proceed to the preserve parking lot on the right. If the lot is full, park on the opposite side of the road in the large unpaved area. We'll meet in the parking lot.

Sat Feb 16  10:00am - 3:00pm  Dirca - Stevens Creek County Park (Saratoga)
Join Don Thomas for a four mile walk to see the southernmost population of the endemic western leatherwood (Dirca occidentalis).  We will also see some early emerging woodland plants in flower.  There will be some moderate but slow-paced hill climbing, with a stop for lunch. As the most southern population of this endemic species, it may be the most impacted by climate change. We will try to monitor the health and viability of the population and, if possible, get a better population count.
We will meet at the park parking lot near the intersection of Stevens Canyon Road and Mt. Eden Road. For more information, please contact Don Thomas at This email address is being protected from spambots. You need JavaScript enabled to view it. or (408) 828-4044.
Please bring lunch, snacks and liquid.  Heavy rain cancels.

Sun Feb 17 10:00am-3:00pm @ Coyote Valley Open Space Preserve, 550 Palm Ave, Morgan Hill
Why do plants grow where they grow? In nature, plants grow in readily identifiable communities or associations united by location (soil, topography, and microclimate). Join Arvind Kumar and Ashok Jethanandani as we explore the common plant communities of the South Bay. Beginners interested in plant identification are welcome; prior knowledge of native plants or botany is not required.
We will take the Arrowhead Loop Trail in Coyote Valley Open Space Preserve, which goes through grassland, chaparral, and oak woodland. Expect to see serpentine outcrops and unique native plants that grow in this inhospitable medium. The distance covered is 4 miles with 600' of elevation gain/loss. Meet in the parking lot.
Bring a hat, water, a bag lunch, and your favorite trail accessories (camera/smartphone/hand lens/binoculars/field guide/none). Dress in layers, and appropriately for winter weather. Heavy rain cancels. For more information contact Arvind at This email address is being protected from spambots. You need JavaScript enabled to view it. or (408) 715-7020.

Thu Feb 28 - Sat Mar 2 Anza-Borrego Desert State Park Camping Trip (Borrego Springs, CA)
Anza-Borrego Desert State Park camping trip, led by Joe Cernac and Patricia Evans. Hiking days of Thurs, Feb 28 - Sat, March 2. Arrive and camp on Wed Feb 27; start for home either Sat night, March 2 or Sun, March 3. Plan on travel days ahead and behind the hiking days. We expect a profusion of desert spring wildflowers, including rose sand verbenas, red flowering Ocotillo, Chuparosa, and yellow Encelias and suncups, given three inches of rain in the last two months of 2018. Anza-Borrego is in San Diego county, ten hours away from the Bay Area. Because of tight limits on the numbers of people, vehicles, and people sleeping in vehicles, you should reserve asap with Patricia Evans by calling 650-949-2801.