Help Wanted!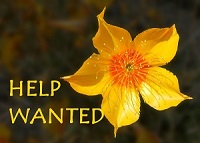 The Chapter is in need of a Fall Plant Sale Assistant Manager and Program Committee members. We are looking for people to fill these important volunteer roles. For more information, contact Stephen Buckhout, Chair of the Leadership Development Committee, 408.255.6233 or This email address is being protected from spambots. You need JavaScript enabled to view it..
Program Committee Member
Be a part the team that organizes native plant programs for CNPS members and the general public. The team brainstorms ideas for speakers, reaches out to them and drafts talk descriptions and speaker bios. Our talks are usually at the Los Altos Library and we work with the library to arrange the dates and room setup. The team also sends out program descriptions and bios to the library, prepares Chapter publicity, and arranges honoraria and speaker dinners.
A committee of four or five people will ensure this job is (at most) a two to three hour per month commitment. Experienced former program committee members will mentor you, so it will be easy to get started. This is a great job if you would like to educate the public about native plants. It can be done mostly via email and phone. For more information about this position please contact Madeline Morrow at This email address is being protected from spambots. You need JavaScript enabled to view it. or (408) 741-1150.
Fall Plant Sale Assistant Manager
We are looking for an Assistant Plant Sale Manager to work with the current Manager, Toni Gregorio-Bunch. Toni is planning to step down as the Sale's Manager after this year. This position would involve organizing volunteers, and arranging the setup of tables, canopies and vendors the day of the event. The Plant Sale is not only one of our most important events of the year, but also one of our most fun. It is held outdoors at our Chapter nursery at Hidden Villa Ranch in Los Altos. For more information about this position please contact Toni Gregorio-Bunch at This email address is being protected from spambots. You need JavaScript enabled to view it. or (408) 373-4497.
These are volunteer positions.