THIS EVENT HAS BEEN CANCELLED DUE TO COVID-19.
Please join us at West Valley College on Saturday, April 25th, 2020 from 9:30 AM to 4 PM for our 46th Wildflower Show. The show will feature hundreds of species of wildflowers and native plants from Santa Clara, San Mateo and surrounding counties. In addition to local plants, we will have a section featuring flowers from native plant gardens in our Chapter. Experts will be on site to describe different samples and answer questions.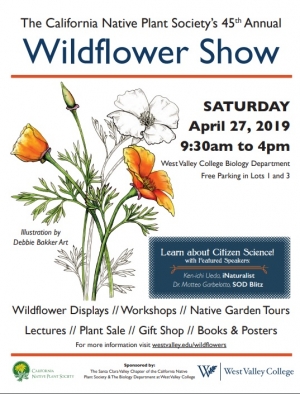 The theme of our 2020 show is Climate Change - What can I do? Our keynote speaker this year is Mary Ellen Hannibal, author of Citizen Scientist: Searching for Heroes and Hope in an Age of Extinction.
Check back in March for our full schedule!
The show also includes a marketplace with native plant books, posters, and note cards. Vendors including Coyote Brush Studios, Poppy and Quail, Wild Jules (seed balls), Annie Haines, and Emily Chin will will offer a wide variety of wildflower themed items. You will be able to purchase native plants from the Grassroots Ecology Nursery, the CNPS SCV Nursery, and Linda Vista Native Plants. Food will be available at the Saratoga Farmer's Market in the parking lot next to the show.
Tours and Demonstrations
:
10:00 Walk: Macrophotography with cell phones (Atul Chaudhari)
10:00 Native Plant Floral arrangement (Madeline Morrow, CNPS SCV Chapter Past President)
11:00 Compost demonstration (Carolyn Dorsch, CNPS SCV Chapter Conservation Chair and Master Composter)
12:00 Mural tour with artist Debbie Bakker
1:00 - 2:00 Tour of Vasona Creek Restoration Area (Scott Ludwig)
The tour of the West Valley College stretch of Vasona Creek provides information on the ongoing college creek restoration project. The project features a riparian corridor restored with native, drought tolerant plants and storm water management. The WVC Biology Department, co-host of the event, will showcase their teaching murals, the refurbished green house, and the future Science Garden.
Want to Help?
The Wildflower Show is a big undertaking for our Chapter. If you'd like to help, please check out our volunteer signup page. Free lunch for volunteers!
Pictures from the 2018 Wildflower Show
Location
The West Valley College campus is located at 14000 Fruitvale Ave., 95070. The show will be held in the Biology wing of the Science and Math buildings, which parallels Allendale Avenue.