Quick Trail Restoration
The Quick Trail Restoration is the newest project at Alum Rock Park. The restoration is at the very top of the Quick Trail and has wonderful views of Santa Clara County, from the bay and Palo Alto ( on a clear day) to Morgan Hill. The area was chosen because of the very large populations of Poison Hemlock and the possibility that all that seed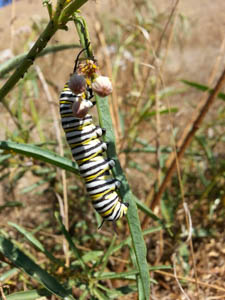 would, over time spread downhill over much more of the park. The area is downhill from OSA's Sierra Vista Open Space Preserve, so this area gets more moisture than much of the other south facing slopes. Now that most of the weeds are cleared, we're seeing natives like the narrow leaf milkweed popping up arround the rocks, where there is more moisture ( photo taken end of August 2015).
There is a much larger population of milkweed in Sierra Vista, and we look forward to more plants on "our side of the fence" now that they are not being shaded out.
We've planted a number of Buckeyes and Elderberrys in the area, and hopefully they'll do well here.