Inspiration Point at Alum Rock Park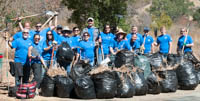 The Alum Rock Park restoration at Inspiration Point in Alum Rock Park is a beautiful location with great views of San Jose and the Bay. There is a fine selection of mature native trees and shrubs, but invasives were taking over large sections.
We started about two years ago and since then have met at least once a month on the third Saturday of the month. The group is called Weed & Walk as we try to include some education in each meeting. If you'd like to get involved please go to the yahoo group Alum Rock Park Volunteers and click "JOIN". We're happy to have volunteers, but park regulations require volunteers to be at least 15 Yrs old. We are also happy to schedule special work days for groups.