Wildflower Show
Please join us at West Valley College on Saturday, April 25th, 2020 from 9:30 AM to 4 PM for our 46th Wildflower Show. The show will feature hundreds of species of wildflowers and native plants from Santa Clara, San Mateo and surrounding counties. In addition to local plants, we will have a section featuring flowers from native plant gardens in our Chapter. Experts will be on site to describe different samples and answer questions. More information about this year's show will be available in March.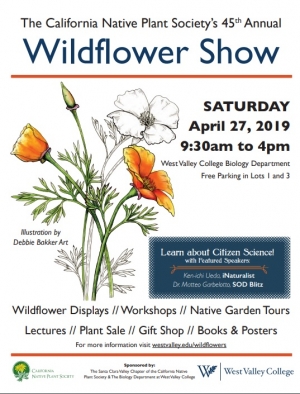 Here's what we did in 2019:
Our theme was Citizen Science. There were plenty of opportunities to learn how to be a Citizen Scientist -- from macrophotography with a cell phone to tracking the spread of Sudden Oak Death to making own observations with the iNaturalist app, there was something for everyone!
We have an exciting lineup of talks scheduled during the show:
10:30 - 11:30
Sudden Oak Death (SOD) Blitz
Matteo Garbelotto
, Head of the UC Berkeley Forest Pathology and Mycology Laboratory
11:45-12:45
iNaturalist from a Botanical Perspective
Ken-ichi Ueda
, co-founder and current co-director of iNaturalist
1:00 - 2:30
Wildflowers and Nature Journaling: A Match Made in Heaven
Marley Alexander Peifer
, Naturalist, Educator and Artist
2:30 - 3:30
Restoring Nature's Relationships, a video lecture by Doug Tallamy
, author of Bringing Nature Home
The show also includes a marketplace with native plant books, posters, and note cards. Vendors including Coyote Brush Studios, Impressed by Nature, Poppy and Quail, Wild Jules (seed balls), Annie Haines, Debbie Bakker, and Emily Chin will will offer a wide variety of wildflower themed items. You will be able to purchase native plants from the Grassroots Ecology Nursery, the CNPS SCV Nursery, and Linda Vista Native Plants. There will be live music by Buck, Brush and Bramble. Snacks can be purchased from the West Valley Biology Club, and additional food will be available at the Saratoga Farmer's Market in the parking lot next to the show.
Tours and Demonstrations
:
10:00 - 11:00 Walk: Macrophotography with cell phones (Atul Chaudhari)
11:00 and 2:00 Pruning demonstration at the Greenhouse (Dee Himes)
1:00 - 2:00 Tour of Vasona Creek Restoration Area (Scott Ludwig)
2:00-3:00 Mural tour with artist Debbie Bakker
The tour of the West Valley College stretch of Vasona Creek provides information on the ongoing college creek restoration project. The project features a riparian corridor restored with native, drought tolerant plants and storm water management. The WVC Biology Department, co-host of the event, will showcase their teaching murals, the refurbished green house, and the future Science Garden.
Want to Help?
The Wildflower Show is a big undertaking for our Chapter. If you'd like to help, please check out our volunteer signup page. Free lunch for volunteers!
Pictures from the 2018 Wildflower Show
Location
The West Valley College campus is located at 14000 Fruitvale Ave., 95070. The show will be held in the Biology wing of the Science and Math buildings, which parallels Allendale Avenue.