Wildflower Show
The 45th Wildflower Show will be held at West Valley College on Saturday, April 27, 2019 from 9:30 AM to 4 PM. - Save the date!
Pictures from the 2018 Wildflower Show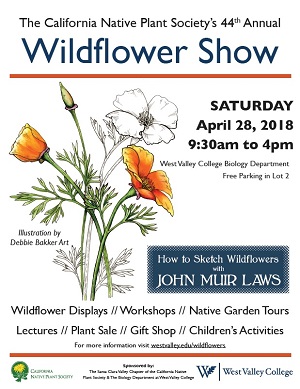 ---
Information about the 2019 show will be available closer to the show date.
The 44th Wildflower Show was held at West Valley College on Saturday, April 28 from 9:30 AM to 4 PM. The show will feature hundreds of species of wildflowers and native plants from Santa Clara, San Mateo and surrounding counties. In addition to local plants, this year we are adding a new section featuring flowers from native plant gardens in our Chapter. Expert botanists and gardeners will be on site to describe different samples and answer questions.
The show's theme is The Art of Conservation. California Native Plant Society Executive Director, Dan Gluesenkamp, will provide the welcoming lecture, Thoughts on the Magic of Native Plants followed by keynote speaker, John Muir Laws, who will give a talk on How to sketch wildflowers. Native plant books, posters, and note cards will be available. Vendors including Coyote Brush Studios, Impressed by Nature and Emily Chin will will offer a wide variety of wildflower themed items. You will be able to purchase native plants from the Grassroots Ecology Nursery, the CNPS SCV Nursery, and Larry Voss.
There will be a variety of activities for children as well as handouts listing places to see wildflowers.
Lectures:
10:30 - 11:00 Welcome and Thoughts on the Magic of Native Plants Dan Gluesenkamp, Executive Director of CNPS
11:15-12:45 How to Sketch Wildflowers John Muir Laws
1:00 - 1:45 Introduction to Aquaponics Howard Meyer from Mountain Feed & Farm Supply
2:00 - 2:30 Digging into our data: Rare plant hotspots in Santa Clara Valley Elan Alford
2:45 - 3:30 Success with Native Plants for Beginners: Tips for Getting Started Kevin Bryant
Tours and Demonstrations
:
11:00 1:30 Pruning demonstration at the Greenhouse (Dee Himes)
12:45 - 1:45 Photography walk through Campus (Atul Chaudhari)
1:45 - 2:45 Tour of Vasona Creek Restoration Area (Scott Ludwig)
The tour of the West Valley College stretch of Vasona Creek provides information on the ongoing college creek restoration project. The project features a riparian corridor restored with native, drought tolerant plants and storm water management. The WVC Biology Department, co-host of the event, will showcase their teaching murals, the refurbished green house, and the future Science Garden.
The West Valley College campus is located at 14000 Fruitvale Ave., 95070. The show will be held in the Biology wing of the Science and Math buildings, which parallels Allendale Avenue.